"My discovery of the year was Oliver Forest" 

Duke Eatmon / CBC Montreal Music Columnist
"Oliver Forest captivated my attention in 2019 when I saw them for the first time during their performance at the Apéros FEQ in Quebec city. I was impressed by their solid presence, their charisma and their obvious talent. With well-written songs, bright melodies and beautiful vocal harmonies, "Some Things You Just Can't Let Go Of" leaves us imbued with a sweet melancholy." - Catherine Jalbert / Former Programmer for Festival d'Été de Québec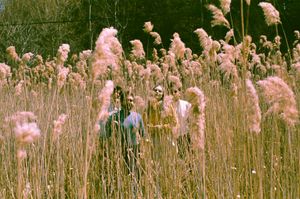 Press Photos
Latest Releases
0:00/4:17

0:00/4:40

0:00/3:44

0:00/3:25

0:00/5:06

0:00/3:57

0:00/3:29

0:00/2:29
Radio
Their first french song "À fleur de peau" has been featured on major radio stations such as CKOI-FM, select ÉNERGIE stations, and many others, along with being featured on Palmarès Pro for 4 months in a row (April to July). 
Their second french song "Vaisseau fantôme" was also tracked in Quebec and has already been featured on some major networks, such as ÉNERGIE. 
On April 20th, 2022, OF got the chance to be interviewed by Duke Eatmon and Sabrina Marandola, host of "Let's Go", on CBC Radio One. "Alleys" and "Daily Dose" were featured.
Alleys was tracked across Canada and has been played on Stingray's Canadian Indie channel, as well as X Red Deer and X Calgary. There is also a french version of the song called "Te retrouver" which was tracked in Quebec, and has been added to many Quebec radio stations such as CFMF FM and CKGN. 
The single "Moments", in collaboration with Montreal band Flara K, was played on Sirius XM "the Wrap Up" on Friday, November 18th, 2022.  It was placed on the "Fresh Alternative" Amazon Music playlist. It was also added to Alan Cross's '5 Songs You Must Hear This Week' for the week of December 12th, 2022. It will be on rotation on CBC's 'Afterdark' with Odario Williams, starting December 19th, 2022.
Biography
Oliver Forest, all of our forest, is a fusion of folk, pop and rock. Their sound is a testament to the band's artistry and creativity, blending powerful melodies and rich instrumentation into a truly unique listening experience. 
Oliver Forest has recently released their latest EP, "Anything But You", featuring six new songs that showcase their evolution as artists. The EP's last single, of the same name, speaks about the paradox of being in love, but knowing that the type of love you're experiencing isn't good for you. 
Produced by the renowned Rob Wells, the EP also includes standout tracks like "Force Yourself" and "Sunday," which capture the essence of Oliver Forest's signature sound. With each release, the band pushes boundaries and creates music that resonates with people across the spectrum. 
Oliver Forest's captivating spirit and undeniable talent make them a must-see act for anyone who loves music. Whether you're a die-hard fan or a newcomer to their sound, you're sure to be swept away by the magic of this one-of-a-kind band.